Benefits of getting
pre-qualified
Getting a pre-qualification letter could be the difference between your offer and someone else's.
Submit offers
Show you're a serious buyer
Leverage your assets
We look at the full picture
Simple
100% online application
Confidential
Your information is safe
No credit check
No hard pull
How to get pre-qualified
Start by answering a few questions about yourself and the home you'd like to buy.
1. Provide a financial overview
Self-report basic information about your income, credit score, and assets.
---
2. Receive a pre-qualification letter
Find out how much you may be able to afford.
---
3. Submit offers
Use your pre-qualification letter to show brokers and sellers you're a serious, qualified borrower.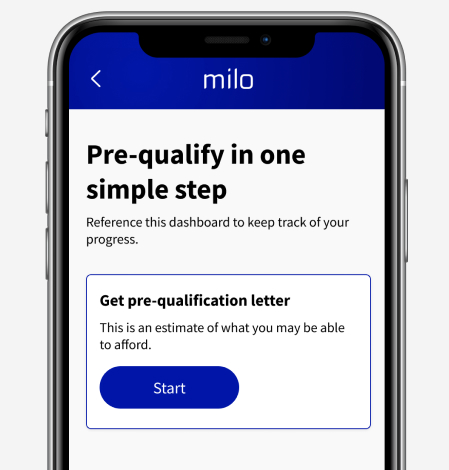 Where we lend
Milo is licensed to help real estate investors and home buyers achieve their financial goals in many U.S. states. If you don't see your state listed below, check back soon or contact us.
Investment properties
---
United States
Alaska, Arizona, Arkansas, California, Colorado, Connecticut, Delaware, Florida, Georgia, Hawaii, Illinois, Indiana, Iowa, Kentucky, Louisiana, Maryland, Massachusetts, Mississippi, Missouri, Montana, Nebraska, New Jersey, New Mexico, New York, North Carolina, Ohio, Oklahoma, Pennsylvania, South Carolina, Tennessee, Texas, Virginia, Wisconsin, and Wyoming.